The 9th Resort at the Mountain Invitational Event, 8-12 June 2005
For the first time ever, two Irish players were selected to compete in the extremely prestigious invitational event at Portland, Oregan. Mark McInerney, the only player to have won this event twice in its history, was competing for the 5th time. Ronan McInerney was selected for his first ever visit after a good run in New Zealand earned him a top 10 spot in the recent World Rankings.
The field was its strongest ever. Mark finished 4th with 8 wins out of 16. Ronan was 5th also on 8 wins but losing out to Mark on net points. The event was very tight the whole way through and the final positions were only decided on the last morning's block play. David Maugham and Robert Fulford of England finished 1st and 2nd respectively, but Robert won the play off for the title with ease, beating David 2-0.
Reg Bamford finished 3rd, completing consecutive octuple peels against Mark in the 3rd place match. This was only the second time in croquet history that this has been achieved. The remaining placements were Jonathon Kirby (Scot) 6th, Trevor Basset (Aus)7th, Damon Bidencope (USA) 8th and Toby Garrison (NZ) 9th.
This invitational tournament has fast become the most popular event among the top players. The nine competitors were treated like professionals and looked after superbly throughout the event. The two wonderfully kept croquet lawns, the wonderful setting of this resort in the mountains, and the three top-class nine hole golf courses alongside all add to the appeal of this marvellous event.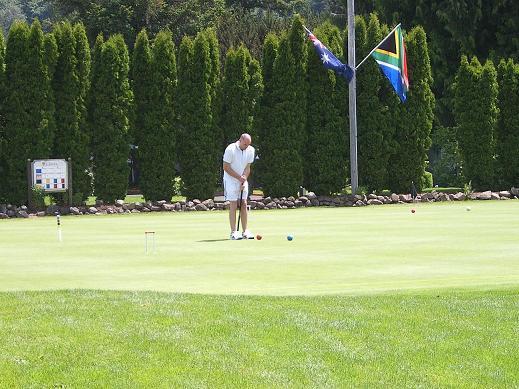 Mark McInerney in action at the Resort Invitational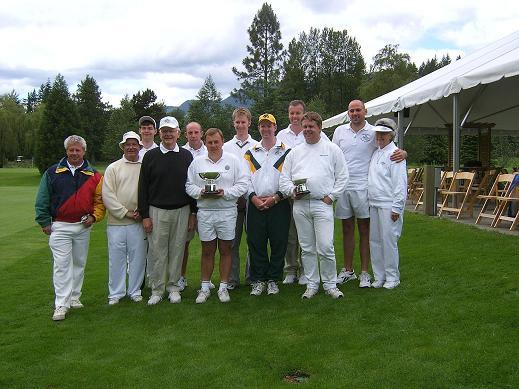 The nine competitors at the prize presentation along with Tremaine Arkley (event manager) and Janice & Ed Hopper (Resort owners)