THE CROQUET ASSOCIATION OF IRELAND
BRONZE MEDAL COMPETITION
NEWCASTLE, 29TH AND 30TH APRIL, 2006
This year the Council decided to reinstate the competition for the CAI Bronze Medal, which had fallen into abeyance. The competition was held at Newcastle over the weekend of 229th/30th April and those playing were Jane Shorten, Leo Dungan, Nathaniel Healy, Russell Harris, Conor Broderick, Harry Johnston and Ben Reeves Smyth. There was play on all three of the club lawns, avoiding double banking.
The position was tight after the first dayís play, with Ben on three wins and each of Jane, Russell and Conor on two. The surprise result was Conorís two hoop victory over Jane, following some nervous manouvering around the peg by both players.
On Sunday however, Jane and Russell won all their games, so when the pair met in the last match it was effectively the final, as Russell was on five wins and Jane on four. After a tense game, Jane emerged as winner +4ot, giving her overall victory.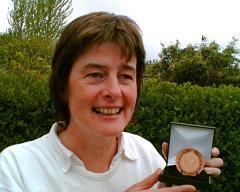 Bronze Medal winner Jane Shorten
PLAYERS & WINS
Jane Shorten 5 WINS (Winner)
Russell Harris 5 WINS
Conor Broderick 4 WINS
Ben Reeves-Smyth 4 WINS
Harry Johnston 1 WIN
Nathaniel Healy 1 WIN
Leo Dungan 1 WIN
RESULTS
Ben Reeves-Smith beat Leo Dungan (+17ot)
Russel Harris beat Conor Broderick (+22)
Jane Shorten beat Nathaniel Healy (+12ot)
Conor beat Jane (+2)
Russell beat Leo (+17)
Ben beat Harry Johnston (+12ot)
Harry beat Nathaniel (+15ot)
Ben beat Conor (+9)
Jane beat Leo (+24)
Jane beat Ben (+12 )
Nathaniel beat Leo (+17)
Russell beat Harry (+6ot)
Russell beat Nathaniel (+26)
Jane beat Harry (+15)
Conor beat Leo (+4ot)
Russell beat Ben (+10ot)
Conor beat Nathaniel (+15)
Leo beat Harry (+1ot)
Conor beat Harry (+9)
Jane beat Russell (+4ot)
Ben beat Nathaniel (+1ot)
Thanks to Nathaniel Healy for managing the event and providing report & results. Photo from Conor Broderick