CAI SILVER MEDAL
At Carrickmines 29th April - 1st May
2006 Silver Medals Match Report (E.N.)
Having failed to translate his speed croquet tactics to the ski slope, the defending champion Ed Cunningham remained sidelined for this year's event with a spiro-fractured leg. In his absence no clear betting patterns emerged and a case could be made for most participants. Thus the event unfolded:
Simon sprinted from the gates with four straight wins, three of them triples. Charlie amazed even himself with a tantalizing triple over Ronan in round two. Mark seemed to lose his way early on. Fred relaxed with an honourable bottle of wine after a + 8 OT victory in round three. This of course ruined any chance of Fred emulating last year's record of zero wins by the tournament manager.
And then things drifted. In a vague compromise, time limits were extended for the second scheduled session of seven games by adding 15 minutes to the initial time limit of 2 hours. As far as round 10 only Ronan managed to sustain any pace to record eight wins and be two clear of the field. With only four games to go this seemed an unassailable lead. But the first of these against Alan was characterized by errors on many winning turns by both players and eventually Alan won + 8. Ronan then, against expectations, made no further progress against a couple of triples by Mark and Simon. Alan meanwhile, inspired by victory over Ronan no doubt, then proceeded to win his next three games as well. Others had varying fortunes and suddenly a monumental draw loomed into focus.
Coming to the last round most players were regretting narrow or unexpected losses in earlier rounds that would have now left them leader or joint leader. Instead there were six players within a point of each other. Andrew then failed to reach the final tie with a simple three back hoop position miss on his final turn. Simon and Patsy (who played consistently but tripleless throughout) were both victims of an inspired Charlie "of the final rounds". Mark at last steadied himself sufficiently to stay in the hunt with three speedy triples in the last four games.
Thus there was a three way tie as neither games won, nor who beat whom, nor triple counts could produce a clear winner. So Mark, Simon and Alan, all on nine wins, proceeded to a 4 ball peg shoot that in turn went to a sudden death shoot out with Mark prevailing over Alan.
As for the others: how close can you go? With Ronan, Andrew and Patsy all just one short on 8 wins and Charlie flying at the end, there is nothing very clear here for the selectors. Perhaps the upcoming Dublin Championships will sort out some sort of order unless, of course, we have a whole stable of Champions! It was apparent from an overall perspective that (perhaps not surprisingly) no player managed to maintain concentration over an intense three days and fourteen games. The hoops were tight but being early in the season the lawns were forgiving and ran true. Tripling rates were down by a third from 30 to 20 compared with 2005. But as an early season contest (in fact preliminary for most players) there was plenty of latent ability on view. This needs to be built on.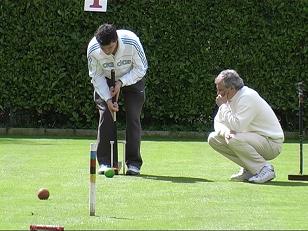 Andrew playing a hampered shot
IRISH SILVER MEDALS 29th April to 1st May 2006
Lawn
Result
Comments
Time
3
Ronan
McInerney
V
Fred
Rogerson
Ronan
+ 17
75
Round 1
1
Mark
McInerney
V
Charlie
Von Schmieder
Mark
+ 22
75
9.00am Sat
2
Simon
Williams
V
Patsy
Fitzgerald
Simon
+ 11 TP
95
2
Andrew
Johnson
V
Alan
McInerney
Alan
+ 20
90
Lawn
Result
Comments
Time
2
Ronan
McInerney
V
Charlie
Von Schmieder
Charlie
+ 17 TP
95
Round 2
2
Mark
McInerney
V
Patsy
Fitzgerald
Patsy
+ 4
130
10.30am Sat
3
Simon
Williams
V
Alan
McInerney
Simon
+ 26 TP
49
1
Andrew
Johnson
V
Fred
Rogerson
Andrew
+ 16
117
Lawn
Result
Comments
Time
1
Ronan
McInerney
V
Patsy
Fitzgerald
Ronan
+ 17 TP
60
Round 3
3
Mark
McInerney
V
Alan
McInerney
Alan
+ 4 TP
100
12.00am Sat
2
Simon
Williams
V
Andrew
Johnson
Simon
+ 13
105
2
Charlie
Von Schmieder
V
Fred
Rogerson
Fred
+8 OT .. Bottle of wine
125
Lawn
Result
Comments
Time
2
Ronan
McInerney
V
Alan
McInerney
Ronan
+ 4
105
Round 4
3
Mark
McInerney
V
Andrew
Johnson
Andrew
+ 24 TP
120
2.30pm Sat
1
Simon
Williams
V
Charlie
Von Schmieder
Simon
+ 26 TP
32
1
Patsy
Fitzgerald
V
Fred
Rogerson
Patsy
+ 17
74
Lawn
Result
Comments
Time
1
Ronan
McInerney
V
Andrew
Johnson
Ronan
+ 16
90
Round 5
1
Mark
McInerney
V
Simon
Williams
Mark
+ 26 TP
35
4.00pm Sat
2
Alan
McInerney
V
Fred
Rogerson
Alan
+ 7
55
3
Patsy
Fitzgerald
V
Charlie
Von Schmieder
Patsy
+ 25
44
Lawn
Result
Comments
Time
3
Ronan
McInerney
V
Simon
Williams
Ronan
+ 9
95
Round 6
3
Mark
McInerney
V
Fred
Rogerson
Mark
+ 15
100
9.00am Sun
2
Andrew
Johnson
V
Charlie
Von Schmieder
Andrew
+ 15
119
1
Alan
McInerney
V
Patsy
Fitzgerald
Patsy
+ 11
110
Lawn
Result
Comments
Time
2
Ronan
McInerney
V
Mark
McInerney
Mark
+ 17 TP
80
Round 7
3
Simon
Williams
V
Fred
Rogerson
Simon
+ 6
100
10.30am Sun
3
Andrew
Johnson
V
Patsy
Fitzgerald
Patsy
+ 17
105
1
Alan
McInerney
V
Charlie
Von Schmieder
Alan
+ 17
115
| | | | | | | | | | |
| --- | --- | --- | --- | --- | --- | --- | --- | --- | --- |
| | Lawn | | | | | | Result | Comments | Time |
| | 1 | Fred | Rogerson | V | Ronan | McInerney | Ronan | + 17 TP | 90 |
| Round 8 | 1 | Charlie | Von Schmieder | V | Mark | McInerney | Mark | + 14 OTP | 80 |
| 12.00pm Sun | 2 | Patsy | Fitzgerald | V | Simon | Williams | Simon | + 16 | 120 |
| | 3 | Alan | McInerney | V | Andrew | Johnson | Andrew | + 23 TP | 89 |
| | | | | | | | | | |
| | Lawn | | | | | | Result | Comments | Time |
| | 3 | Charlie | Von Schmieder | V | Ronan | McInerney | Ronan | + 26 | 55 |
| Round 9 | 2 | Patsy | Fitzgerald | V | Mark | McInerney | Patsy | + 25 | 60 |
| 2.30pm Sun | 1 | Alan | McInerney | V | Simon | Williams | Alan | + 14 | 80 |
| | 1 | Fred | Rogerson | V | Andrew | Johnson | Andrew | + 20 | 70 |
| | | | | | | | | | |
| | Lawn | | | | | | Result | Comments | Time |
| | 1 | Patsy | Fitzgerald | V | Ronan | McInerney | Ronan | + 20 TP | 50 |
| Round 10 | 1 | Alan | McInerney | V | Mark | McInerney | Mark | + 17 | 80 |
| 4.00pm Sun | 2 | Andrew | Johnson | V | Simon | Williams | Andrew | + 13 OTP | 95 |
| | 3 | Fred | Rogerson | V | Charlie | Von Schmieder | Charlie | + 24 | 85 |
| | | | | | | | | | |
| | | | | | | | | | |
| | Lawn | | | | | | Result | Comments | Time |
| | 3 | Alan | McInerney | V | Ronan | McInerney | Alan | + 6 | 100 |
| Round 11 | 3 | Andrew | Johnson | V | Mark | McInerney | Mark | + 24 TP | 45 |
| 9.00am Mon | 1 | Charlie | Von Schmieder | V | Simon | Williams | Charlie | + 3 | 100 |
| | 2 | Fred | Rogerson | V | Patsy | Fitzgerald | Patsy | + 24 | 65 |
| | | | | | | | | | |
| | Lawn | | | | | | Result | Comments | Time |
| | 1 | Andrew | Johnson | V | Ronan | McInerney | Andew | + 17 | 90 |
| Round 12 | 2 | Simon | Williams | V | Mark | McInerney | Simon | + 17 | 70 |
| 10.30am Mon | 3 | Fred | Rogerson | V | Alan | McInerney | Alan | + 20 TP | 95 |
| | 3 | Charlie | Von Schmieder | V | Patsy | Fitzgerald | Charlie | + 13 | 135 |
| | | | | | | | | | |
| | Lawn | | | | | | Result | Comments | Time |
| | 3 | Simon | Williams | V | Ronan | McInerney | Simon | + 26 TP | 55 |
| Round 13 | 1 | Fred | Rogerson | V | Mark | McInerney | Mark | + 26 TP | 40 |
| 12.00pm Mon | 2 | Charlie | Von Schmieder | V | Andrew | Johnson | Andew | + 23 | 90 |
| | 2 | Patsy | Fitzgerald | V | Alan | McInerney | Alan | + 23 TP | 55 |
| | | | | | | | | | |
| | | | | | | | | | |
| | Lawn | | | | | | Result | Comments | Time |
| | 2 | Mark | McInerney | V | Ronan | McInerney | Mark | + 26 TP | 45 |
| Round 14 | 1 | Fred | Rogerson | V | Simon | Williams | Simon | + 26 TP | 40 |
| 2.30pm Mon | 3 | Patsy | Fitzgerald | V | Andrew | Johnson | Patsy | + 8 OT .. Bottle of wine | 140 |
| | 2 | Charlie | Von Schmieder | V | Alan | McInerney | Alan | + 25 TP | 45 |