"Rushbrooke & Carrickmines meet in Friendly"
Saturday, August 26th saw the return of Carrickmines Croquet & Lawn Tennis Club to Rushbrooke for a friendly Golf croquet meeting that was long overdue. Both these clubs have a long and distinguished history on both the croquet and tennis courts. On this occasion it was the turn of the croquet players to grace the lawns of this Co. Cork club.
The weather was kind and the visiting contingent of Simon Williams, Fred Rogerson, Peter O'Neill, Harry Johnston, Joe Cunningham, June-Anne Byrne, Carola Schmitz and Nick Addey (both Schull) joined a large Rushbrooke grouping for an afternoon of social croquet that was enjoyed by all.
The standard of play was second to none and possibly the best witnessed on the clubs lawns since the Silver medal was played for at this venue in 1987. Indeed two of the visitors, namely Simon Williams and Fred Rogerson were returning to Rushbrooke having competed for that coveted prize at the club some 20 years previous.
The occasion was memorable for it marked an opportunity for the visiting players to enjoy the final few weeks of the club's pavilion which is due to be demolished and replaced by a new state of the art clubhouse.
A similar event is already been planned for next year. See you there!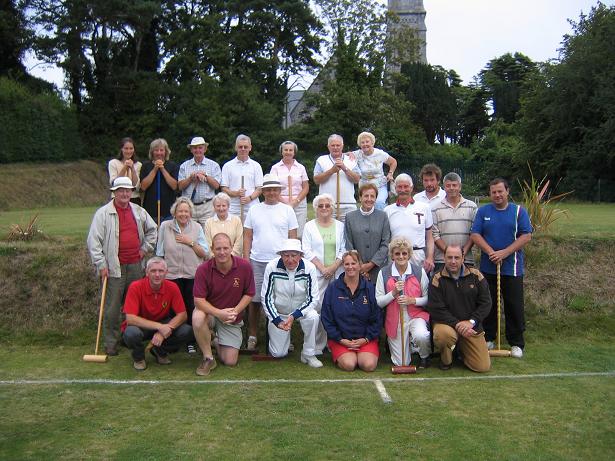 The group of players at the Open Golf Croquet event at Rushbrooke Croquet & Lawn Tennis Club
Report and photo received from Frank McDonnell