Transition Year Croquet - May 2006
Transition Year students at East Glendalough School in Wicklow finished a successful year of croquet with a tournament in Newcastle. Over the year over 20 students learned how to play, in two groups, each travelling to the club for eight weeks. The Saturday tournament brought the keenest twelve to play a Golf croquet doubles block-play event. Two pairs ended up with four wins and a play off resulted in victory for Evan Hattingh and Kieran Murphy, who received cash prizes for their efforts.
It is hoped that some of these students will continue to play, and already the weekly Thursday club night has seen up to six of them arriving, along with those in sixth year who took the game up in their own Transition year. Newcastle is growing new players who we hope will soon be seen in Tournaments.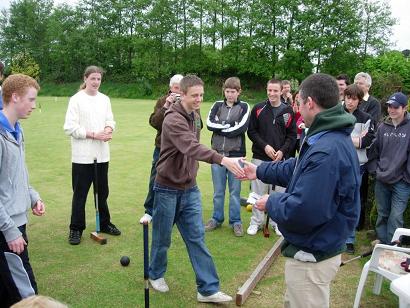 Thanks to Russell Harris for report & photo