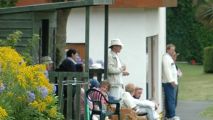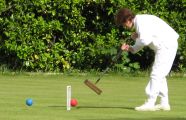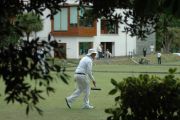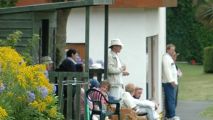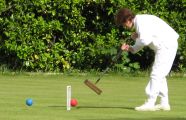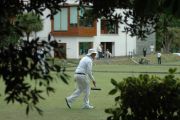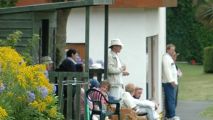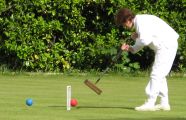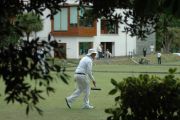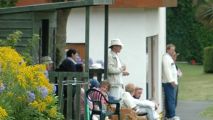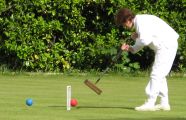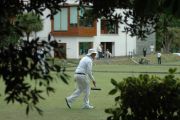 Group Stage
All matches will be played according to the WCF 2005 rules and using Dawson 2000 International balls. The match timings below are approximate and depend on earlier matches finishing in time. It would help the manager if players could arrive in good time for their matches so that they could be started early if there are free lawns. Similarly, players should also expect that some matches may start slightly later than scheduled.
Note: all schedules are provisional and will be confirmed just before the event.
Following the completion of the blocks the last player in each block will be eliminated from the main competition and the remaining 32 players will be entered for the main knock-out event. To determine the last player where one or more players are tied, the following sequence of tests will apply: (a) number of matches won; (b) total number of games won; (c) who has beaten whom; (d) net points scored in the block; (e) shoot out for hoop.
Carrickmines schedule
Herbert Park schedule
Group A
| | | | | | | | | |
| --- | --- | --- | --- | --- | --- | --- | --- | --- |
| | | NH | MB | AO | VM | CB | Wins | Position |
| Nahed Hassan | EGY | | 7-6, 4-7, 7-5 | 7-5, 7-0 | 7-0, 7-3 | 7-4, 7-3 | 4 | 1 |
| Mavis Brogden | NZ | 6-7, 7-4, 5-7 | | 7-5, 7-2 | 7-4, 7-4 | 7-3, 7-0 | 3 | 2 |
| Anne Oxton | RSA | 5-7, 0-7 | 5-7, 2-7 | | 7-6, 2-7, 7-5 | 4-7, 7-6, 7-4 | 2 | 3 |
| Vivienne Murphy | AUS | 0-7, 3-7 | 4-7, 4-7 | 6-7, 7-2, 5-7 | | 5-7, 6-7 | 0 | 5 |
| Ciara Byrne | IRE | 4-7, 3-7 | 3-7, 0-7 | 7-4, 6-7, 4-7 | 7-5, 7-6 | | 1 | 4 |
Group B
| | | | | | | | | |
| --- | --- | --- | --- | --- | --- | --- | --- | --- |
| | | IEF | VA | PY | KB | IH | Wins | Position |
| Iman El Farnsawi | EGY | | 7-2, 7-2 | 5-7, 2-7 | 6-7, 7-4, 7-5 | 7-3, 7-3 | 3 | 2 |
| Valerie Armstrong | RSA | 2-7, 2-7 | | 5-7, 4-7 | 7-6, 7-4 | 7-3, 7-5 | 2 | 3 |
| Phyllis Young | NZ | 7-5, 7-2 | 7-5, 7-4 | | 7-4, 6-7, 6-7 | 7-0, 7-4 | 3 | 1 |
| Kath Burt | ENG | 7-6, 4-7, 5-7 | 6-7, 4-7 | 4-7, 7-6, 7-6 | | 7-4, 7-2 | 2 | 4 |
| Irene Holloway | IRE | 3-7, 3-7 | 3-7, 5-7 | 0-7, 4-7 | 4-7, 2-7 | | 0 | 5 |
Group C
| | | | | | | | | |
| --- | --- | --- | --- | --- | --- | --- | --- | --- |
| | | AM | DC | AT | IB | VB | Wins | Position |
| Abir Moustafa | EGY | | 7-1, 6-7, 7-4 | 7-5, 7-5 | 7-4, 7-6 | 5-7, 7-0, 7-2 | 4 | 1 |
| Dallas Cooke | NZ | 1-7, 7-6, 4-7 | | 7-6, 4-7, 5-7 | 7-5, 7-5 | 7-3, 7-2 | 2 | 3 |
| Anne Taves | USA | 5-7, 5-7 | 6-7, 7-4, 7-5 | | 6-7, 7-2, 7-5 | 7-6, 7-2 | 3 | 2 |
| Irene Burns | ENG | 4-7, 6-7 | 5-7, 5-7 | 7-6, 2-7, 5-7 | | 7-5, 7-2 | 1 | 4 |
| Victoria Browne | IRE | 7-5, 0-7, 2-7 | 0-7, 4-7 | 6-7, 2-7 | 5-7, 2-7 | | 0 | 5 |
Group D
| | | | | | | | | |
| --- | --- | --- | --- | --- | --- | --- | --- | --- |
| | | SH | JH | LD | PE | GK | Wins | Position |
| Sherine Hamdi | EGY | | 7-6, 7-4 | 7-2, 7-3 | 7-2, 7-4 | 6-7, 7-3, 6-7 | 3 | 1 |
| Julie Hudson | ENG | 6-7, 4-7 | | 7-2, 7-5 | 7-3, 7-4 | 3-7, 2-7 | 2 | 2 |
| Leo Dungan | IRE | 2-7, 3-7 | 2-7, 5-7 | | 5-7, 7-2, 6-7 | 7-6, 7-5 | 1 | 5 |
| Pat Erskine | RSA | 2-7, 4-7 | 3-7, 4-7 | 7-5, 2-7, 7-6 | | 7-5, 7-6 | 2 | 3 |
| Glennis Kitt | AUS | 7-6, 3-7, 7-6 | 7-3, 7-2 | 6-7, 5-7 | 5-7, 6-7 | | 2 | 4 |
Group E
| | | | | | | | | |
| --- | --- | --- | --- | --- | --- | --- | --- | --- |
| | | JW | SS | JPr | JPo | LP | Wins | Position |
| Jenny Williams | NZ | | 7-5, 7-3 | 7-3, 7-1 | 7-2, 7-2 | 7-1, 7-6 | 4 | 1 |
| Salwa Saleh | EGY | 5-7, 3-7 | | 7-3, 5-7, 7-6 | 4-7, 5-7 | 5-7, 7-1, 7-4 | 2 | 4 |
| Jane Pringle | ENG | 3-7, 1-7 | 3-7, 7-5, 6-7 | | 7-4, 7-4 | 7-4, 7-3 | 2 | 2 |
| Jill Pople | RSA | 2-7, 2-7 | 7-4, 7-5 | 4-7, 4-7 | | 7-4, 7-2 | 2 | 3 |
| Linda Pullman | IRE | 1-7, 6-7 | 7-5, 1-7, 4-7 | 4-7, 3-7 | 4-7, 2-7 | | 0 | 5 |
Group F
| | | | | | | | | |
| --- | --- | --- | --- | --- | --- | --- | --- | --- |
| | | HM | CJ | REA | JJ | TS | Wins | Position |
| Hemat Moustafa | EGY | | 3-7, 7-6, 7-4 | 7-2, 7-5 | 7-5, 7-6 | 7-4, 7-0 | 4 | 1 |
| Carole Jackson | RSA | 7-3, 6-7, 4-7 | | 7-3, 7-2 | 7-3, 7-5 | 7-3, 7-4 | 3 | 2 |
| Rana El Alami | PAL | 2-7, 5-7 | 3-7, 2-7 | | 5-7, 6-7 | 6-7, 5-7 | 0 | 5 |
| Josie Jackson | USA | 5-7, 6-7 | 3-7, 5-7 | 7-5, 7-6 | | 7-6, 5-7, 7-2 | 2 | 3 |
| Tamar Shorten | IRE | 4-7, 0-7 | 3-7, 4-7 | 7-6, 7-5 | 6-7, 7-5, 2-7 | | 1 | 4 |
Group G
| | | | | | | | | |
| --- | --- | --- | --- | --- | --- | --- | --- | --- |
| | | MAM | CP | FV | BL | YM | Wins | Position |
| Manal Ali Mohsen | EGY | | 7-2, 7-1 | 7-1, 7-5 | 7-1, 7-3 | 7-0, 7-4 | 4 | 1 |
| Christine Pont | AUS | 2-7, 1-7 | | 7-2, 7-1 | 7-5, 7-4 | 7-1, 7-2 | 3 | 2 |
| Freda Vitty | ENG | 1-7, 5-7 | 2-7, 1-7 | | 7-6, 7-3 | 7-2, 7-2 | 2 | 3 |
| Barbara Leeming | USA | 1-7, 3-7 | 5-7, 4-7 | 6-7, 3-7 | | 7-5, 7-5 | 1 | 4 |
| Yvonne Marrinan | IRE | 0-7, 4-7 | 1-7, 2-7 | 2-7, 2-7 | 5-7, 5-7 | | 0 | 5 |
Group H
| | | | | | | | | |
| --- | --- | --- | --- | --- | --- | --- | --- | --- |
| | | MM | JSho | CD | ES | JSha | Wins | Position |
| Marwa Moustafa | EGY | | 7-4, 7-1 | 7-2, 7-4 | 7-2, 7-3 | 7-3, 7-4 | 4 | 1 |
| Jane Shorten | IRE | 4-7, 1-7 | | 3-7, 7-6, 3-7 | 5-7, 7-4, 3-7 | 7-2, 7-1 | 1 | 4 |
| Creina Dawson | AUS | 2-7, 4-7 | 7-3, 6-7, 7-3 | | 7-6, 6-7, 3-7 | 7-2, 7-2 | 2 | 3 |
| Erica Stephens | NZ | 2-7, 3-7 | 7-5, 4-7, 7-3 | 6-7, 7-6, 7-3 | | 7-2, 7-2 | 3 | 2 |
| Jackie Shannon | SCO | 3-7, 4-7 | 2-7, 1-7 | 2-7, 2-7 | 2-7, 2-7 | | 0 | 5 |
Carrickmines Schedule
Sunday
| | |
| --- | --- |
| 1400 - 1800 | Practice session |
Monday
| | |
| --- | --- |
| 1200 - 1500 | Practice session |
| | | |
| --- | --- | --- |
| 1700 | Nahed Hassan | Anne Oxton |
| | Iman El Farnsawi | Phyllis Young |
| | Jenny Williams | Jane Pringle |
| | Hemat Moustafa | Rana El Alami |
Tuesday
| | | |
| --- | --- | --- |
| 0930 | Manal Ali Mohsen | Barbara Leeming |
| | Marwa Moustafa | Erica Stephens |
| | Christine Pont | Freda Vitty |
| | Jane Shorten | Creina Dawson |
| 1100 | Nahed Hassan | Vivienne Murphy |
| | Iman El Farnsawi | Kath Burt |
| | Mavis Brogden | Ciara Byrne |
| | Valerie Armstrong | Irene Holloway |
| 1230 | Manal Ali Mohsen | Yvonne Marrinan |
| | Marwa Moustafa | Jackie Shannon |
| | Freda Vitty | Barbara Leeming |
| | Creina Dawson | Erica Stephens |
| 1400 | Jenny Williams | Jill Pople |
| | Hemat Moustafa | Josie Jackson |
| | Salwa Saleh | Linda Pullman |
| | Carole Jackson | Tamar Shorten |
| 1530 | Nahed Hassan | Ciara Byrne |
| | Iman El Farnsawi | Irene Holloway |
| | Mavis Brogden | Vivienne Murphy |
| | Valerie Armstrong | Kath Burt |
| 1700 | Jenny Williams | Salwa Saleh |
| | Hemat Moustafa | Carole Jackson |
| | Jane Pringle | Jill Pople |
| | Rana El Alami | Josie Jackson |
Wednesday
| | | |
| --- | --- | --- |
| 0930 | Abir Moustafa | Irene Burns |
| | Sherine Hamdi | Pat Erskine |
| | Dallas Cooke | Anne Taves |
| | Julie Hudson | Leo Dungan |
| 1100 | Nahed Hassan | Mavis Brogden |
| | Iman El Farnsawi | Valerie Armstrong |
| | Anne Oxton | Vivienne Murphy |
| | Phyllis Young | Kath Burt |
| 1230 | Abir Moustafa | Victoria Browne |
| | Sherine Hamdi | Glennis Kitt |
| | Anne Taves | Irene Burns |
| | Leo Dungan | Pat Erskine |
| 1400 | Jenny Williams | Linda Pullman |
| | Hemat Moustafa | Tamar Shorten |
| | Salwa Saleh | Jill Pople |
| | Carole Jackson | Josie Jackson |
| 1530 | Mavis Brogden | Anne Oxton |
| | Valerie Armstrong | Phyllis Young |
| | Vivienne Murphy | Ciara Byrne |
| | Kath Burt | Irene Holloway |
| 1700 | Salwa Saleh | Jane Pringle |
| | Carole Jackson | Rana El Alami |
Thursday
| | | |
| --- | --- | --- |
| 0930 | Christine Pont | Yvonne Marrinan |
| | Jane Shorten | Jackie Shannon |
| | Rana El Alami | Tamar Shorten |
| | Jane Pringle | Linda Pullman |
| 1100 | Julie Hudson | Glennis Kitt |
| | Dallas Cooke | Victoria Browne |
| | Phyllis Young | Irene Holloway |
| | Anne Oxton | Ciara Byrne |
| 1200 | Jill Pople | Linda Pullman |
| | Josie Jackson | Tamar Shorten |
Herbert Park Schedule
Sunday
| | |
| --- | --- |
| 1400 - 1800 | Practice session |
Tuesday
0930
Abir Moustafa
Anne Taves
Dallas Cooke
Irene Burns
1100
Sherine Hamdi
Leo Dungan
Julie Hudson
Pat Erskine
1230
LUNCH PARTY
1330
Abir Moustafa
Dallas Cooke
Irene Burns
Victoria Browne
1500
Pat Erskine
Glennis Kitt
Sherine Hamdi
Julie Hudson
1630
Anne Taves
Victoria Browne
Leo Dungan
Glennis Kitt
Wednesday
| | | |
| --- | --- | --- |
| 0930 | Manal Ali Mohsen | Freda Vitty |
| | Christine Pont | Barbara Leeming |
| 1100 | Marwa Moustafa | Creina Dawson |
| | Jane Shorten | Erica Stephens |
| 1230 | Manal Ali Mohsen | Christine Pont |
| | Barbara Leeming | Yvonne Marrinan |
| 1400 | Erica Stephens | Jackie Shannon |
| | Marwa Moustafa | Jane Shorten |
| 1530 | Freda Vitty | Yvonne Marrinan |
| | Creina Dawson | Jackie Shannon |