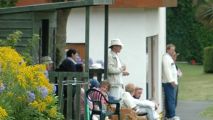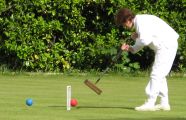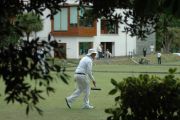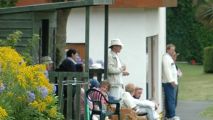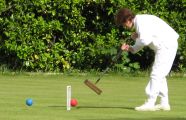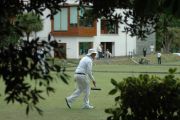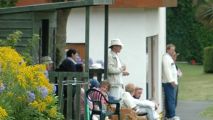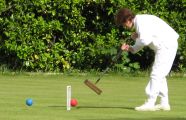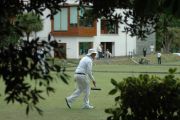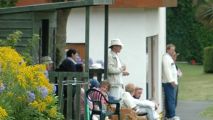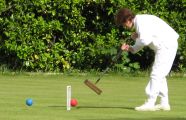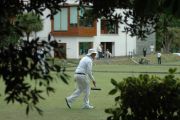 The Players
40 players from 9 countries will be playing in the championship.

Rana El Alami (Palestine)

Rana lives in France and loves sports and travelling. She has participated in world championships in Cairo and Florida and is looking forward to this memorable event.

Valerie Armstrong (South Africa)

Valerie started playing golf croquet at Port Alfred in 1999 and since then has played in all the E.C. Championships (Highlander), Western Province and National tournaments.
She has won several handicap doubles, open doubles and open singles championships at her club and this year 2007 once again won the handicap doubles with her partner Jill Pople. In 2005 she played in Cairo finishing 17th.

Mavis Brogden (New Zealand)

Mavis is a member of the New Plymouth Croquet Club and has played Association Croquet for several years before coming to Golf Croquet three years ago. Golf croquet is now her preferred sport. She competed in the WCF World Golf Croquet Championships in 2006.

Victoria Browne (Ireland)

Victoria played garden croquet before taking up Association Croquet and Golf Croquet while studying at Trinity College. She represented Ireland in the first Women's World Golf Croquet Championship in Cairo in 2005.

Irene Burns (England)

Irene has been a member of Bishop Auckland Croquet, County Durham club since 2000. She enters local competitions and is delighted to be coming to Dublin this September. Her hobbies include bridge, photography and growing container plants.

Kath Burt (England)

Kath started playing croquet in the early 1990's with Dorset Women's Institute at the Kingston Maurward Croquet Club in Dorchester of which she is still a member. She is also a keen member of the East Dorset Croquet Club and enjoys both association and golf croquet.
She is a Dorset person and has been proud to represent Dorset for the past three years in the inter counties golf croquet tournament. She trys to fit in as much croquet as possible around her fulltime job as an accountant on a large agricultural estate and visitor attraction on the south coast of Dorset.

Ciara Byrne (Ireland)

Ciara is an economics student at Trinity College and is Treasurer of the Trinity College Croquet Club. She moonlights occasionally as a piano teacher.

Dallas Cooke (New Zealand)

Dallas is a member of the Kereone Country Croquet Club along with her husband Keith and 3 girls Ashley, Courtney and Danielle who all play golf croquet. She started playing Golf Croquet in 2005 having competed in the 1st Women's World Championship in Egypt along with her mother A fantastic experience.

Creina Dawson (Australia)

Creina has been playing croquet and golf croquet since 1970. Originally coached by the legendary Tom and Jean Armstrong she has loved golf croquet right from the start and always felt lucky that every coaching session finished up with a relaxed game of golf croquet after the arduous task of learning the skills needed to play association croquet.
She has been a member of the South Australian State Team from 1981 until the present time and has Played in Trans-Tasman test teams. For five years she served as events manager for Croquet Australia before becoming Vice President, President and Immediate Past President of Croquet Australia from 2001 to 2007. She remains the only person to have won the Women's Singles (Association Croquet) in Australia, New Zealand and Great Britain.

Leo Dungan (Ireland)

Leo began playing croquet in 1996 while looking for an outdoor sport to take up after enjoying many years of hockey and tennis and quickly became an active member of the CAI Council for a number of years. She is a member of Carrickmines Croquet & Lawn Tennis Club and one of the main organisers of the 2nd WCF Women's World Championship being held in Ireland.
She plays both Association and Golf Croquet, and in recent years, has competed in Golf Croquet competitions, in England, Belgium and in the 1st Women's GC Championship in Cairo in 2005. She works in administration in Trinity College, has two grown up sons and her mascot 'Becky' will be at her side at the Championship. Her other hobbies are gardening, computing, photography and walking.

Pat Erskine (South Africa)

Pat started playing golf croquet four years ago at St. Andrews CC in East London - her current handicap is scratch. She has won the Port Alfred Highlander handicap doubles on two occasions and is currently the Club Champion at St. Andrews CC in both open singles and handicap singles. Pat is also the Chairman of the croquet section and works hard at encouraging beginners.

Iman El Farnsawi (Egypt)

Iman is ranked 9th in the Egyptian rankings and was the losing finalist in the last World Championship. A member of Wadi Dekla Sporting Club, she has won several mixed doubles and ladies tournaments. She works as an air hostess for Egypt Air.

Sherine Hamdi (Egypt)

Sherine, married with two children, is a member of the Cairo Club and an English teacher. She has won the Egyptian ladies singles title and several doubles and mixed tournaments. She is ranked 34 in Egypt.

Nahed Hassan (Egypt)

Nahed, a practising lawyer who is married with two children, began her playing career at the Zamalek Club in 1974. The current women's GC World Champion, she also played in the Open World Championships in 1997, 1998, 2000 and 2004 and has been the Egyptian Lady Singles Champion five times. She has also won titles in ladies doubles and mixed doubles.

Irene Holloway (Ireland)

Irene Holloway is a member of Herbert Park Croquet Club, Dublin. She plays both Association and Golf croquet.

Julie Hudson (England)

Having enjoyed numerous sports over the years, including rowing, netball, table tennis and bowls, Julie tried her hand at croquet in 2002. She took part in the inaugural Women's World GC Championships in Cairo, and also played in the GC Worlds in New Zealand last year.
Julie likes to play AC as well, and is kept busy fitting in bowls, GC, AC and working full-time as an accounts manager. Fortunately, her boss is very understanding!

Carole Jackson (South Africa)

Carole started playing AC croquet in 1980 following a spinal fusion which stopped her from playing squash. She has been involved in the running of croquet in South Africa on and off since 1983 and is currently President of that Association.
First selected to play for SA in 1982 against the USA in Palm Beach, again in 1983 and in 1995, she also played in the 1994 World Association Croquet Championship in Chester. She is the current holder for the second year running of the South African AC Open Singles Championship. It is only in recent years that Carole has taken up Golf Croquet and she is the current holder of 'The Level Best', an invitation event for the top twelve GC players in South Africa. She played in the first Women's GC Championship in Cairo in 2005 and is greatly looking forward to attempting to better her position of 9th in that Championship.
Carole has two married sons and four grandchildren. Her youngest son Andrew has represented South Africa three times in croquet.

Josie Jackson (USA)

After retiring from the newspaper publishing business in New Haven, Connecticut, USA, Josie and her husband decided to take a sailing trip which began in 1990 and ended in 2000 in Singapore. One of their landfalls during that trip was Whangarei, New Zealand, where they discovered the sport of croquet. For three years they sailed in and out of NZ using croquet tournaments throughout the North Island as a way of meeting locals, exploring the sights, and improving their skill. Josie was not exposed to Golf Croquet until returning to the USA in 2001, when they moved to West Palm Beach, Florida, USA, where previous WCF World Championships had been held.
Currently she is a member of the New York Croquet Club, Palm Beach Croquet Club, the Beach Club, the National Croquet Clubs in the USA, and the Surbiton Croquet Club in the UK. This is her first international competition in golf croquet, although she has competed in several USCA National events. She is looking forward to the competition in Ireland and meeting fellow female golf croquet enthusiasts.

Glennis Kitt (Australia)

Glennis is a mother to four grown up children, and got interested in golf croquet through a friend. She has been a member of the Eaglehawk croquet club for five years and in that time has played in Australian and state championships and recently became runner up in the Victoria State doubles. Her other interests include quilting and cooking.

Barbara Leeming (USA)

Swedish born Barbara is a 4 handicap in six wicket croquet and and resides in the U.S. She played for the U.S. team in 2005 in Egypt at the Women's World Golf Croquet. When not playing she divides her time as the President of two clubs, the Greenwich Croquet Club, Greenwich CT. and WAVENY Croquet in New Canaan, CT, USA.

Yvonne Marrinan (Ireland)

Yvonne has played croquet since 1993 and is a member of Herbert Park Croquet Club. She plays Association and Golf croquet. She represented Ireland at the World Cup Croquet Championships in Egypt in 2000. She enjoys sailing in the summer and skiing in the winter and enjoys champagne all year round!

Manal Ali Mohsen (Egypt)

Manal, known to her friends as Kouki, has a degree from Cairo University in Economics and Political Sciences. She is married with two children and only started to play golf croquet in 2000. She is a member of the Gezira Golf Croquet Team winners of the Egyptian Cup in both 2002 and 2003.
On a personal front she won the award for best player in her club in 2002. She ranks amongst the highest lady players both nationally and within her club.

Abir Moustafa (Egypt)

Abir is a senior business consultant, specialising in banking analytical applications. Married with one child, she has been playing croquet since 1992 and is currently ranked 2nd in Egypt.
A member of the Egyptian Shooting Sports Club she was third in the 1st Women's World Golf Croquet Championship in Cairo 2005. Her other achievements in the sport include, winner of Ripon Open GC Championship 2005, Egyptian Ranking Champion in 2005 and 2006, member of the Egyptian Teams Cup and League winners 2004 and 2006 and Mixed Doubles Championships in 2003 and 2005.

Hemat Moustafa (Egypt)

Hemat is a member of the Maadi Club where she has won several doubles and mixed tournaments in Egypt. Ranked 4th in Egypt, she is married.

Marwa Moustafa (Egypt)

31 year old Marwa was born in Alexandria, Egypt and is married with two children. Winner of the Egyptian ladies singles championship in 1999 and runner-up in 2002. Was runner-up in the mixed doubles championship in 2006. She competed in the WCF Open Golf World Championship in 2000 in Cairo, finishing 8th.

Vivienne Murphy (Australia)

Anne Oxton (South Africa)

Anne has been playing golf croquet for some 15 years at her club Kelvin Grove in Cape Town, but has not ventured into association croquet yet. She is a regular player in the South African and the Western Province Championships and for the last four years has played in the E.C Championships.
She played in Cairo in 2005 coming 21st and in 2006 played in the Southwick County Championships as well as the Italian and German Golf Croquet Champs.

Christine Pont (Australia)

Christine is a retired school teacher who took up croquet on retirement in 1999. She plays both Association Croquet and Golf Croquet at the National Park Croquet Club in Newcastle N.S.W. She has represented New South Wales in Interstate Association croquet four times.
Christine played in the 1st WCF World Golf Croquet Championship for Women in Cairo and came 8th. She also represented Australia in the WCF 2006 World Golf Croquet in New Zealand and was Runner up in the plate event.

Jill Pople (South Africa)

Jill is a member of Port Alfred Bowls and Croquet Club and is looking forward to playing in her first Women's Golf Croquet Championship.

Jane Pringle (England)

Jane has been playing Golf Croquet for about eight years and is a member of Auckland Croquet Club in County Durham. She plays in club and regional competitions and was winner of the plate event in the 1st Womens World Championships in Cairo. Jane also enjoys motor sport and trying to train her dog to do "doggy sports".

Linda Pullman (Ireland)

Linda is a new recruit to Golf Croquet to complement her interests in the equestrian world.

Salwa Saleh (Egypt)

Salwa is 46 years old, married with 3 children. She started playing Golf Croquet in 1996 at the El Nasr City Club. Ranked 5 in Egypt.

Jackie Shannon (Scotland)

Jackie has been playing Golf Croquet in Edinburgh at the Meadows Croquet Club for two years to complement her interests in curling and badminton.

Jane Shorten (Ireland)

Jane is a member of both Carrickmines and Herbert Park and is lucky enough to enjoy both Association Croquet and Golf Croquet. She was placed 7th in the first Women's World Golf Croquet Championships in Cairo.

Tamar Shorten (Ireland)

Tamar is an architecture student from Limerick and has been playing at Herbert Park for the last year.

Erica Stephens (New Zealand)

Erica lives on an orchard in the Hawkes Bay of New Zealand. Growing up in a croquet family she has had a mallet in her hand as long as she can remember, but gave up association croquet at 16 years of age. She took up golf croquet less than two years ago when her father Tony was playing in the world championship. He asked her to play with him at the nationals. She loves playing the game and it also gives her the chance to travel internationally, which is another thing she loves to do.

Anne Taves (USA)

Anne started playing croquet in 1991 learning the American Rules game and then shortly switched to the Association Rules game. She took a break from croquet in 1997 but started practising Golf Croquet in preparation for the Cairo Women's tournament. She played in the first Women's GC Championship in Cairo in 2005 and is very much looking forward to playing in the second.
Anne lives in the Seattle, Washington area and is a member of the Puget Sound Croquet Club. She is married and has two school age sons. Anne is the marketing director for a small software company.

Freda Vitty (England)

Freda started playing Golf Croquet in 1999, after retiring early from the Probation Service due to ill health. Her home club is Auckland, Co. Durham and she is an honorary member of Ripon Spa Hotel Croquet Club. She has had a number of individual and team successes at Regional level, in both Golf and Association Croquet. She played in the 1st Women's Worlds in Cairo, finishing 28th.
She is Secretary of her home club and has been on the C.A. Golf Croquet Committee for two years. She is keen to promote Golf Croquet as both a competitive and social sport and believes that there is untapped potential as a spectator friendly sport.

Jenny Williams (New Zealand)

Jenny is a physicist in particle physics based in Christchurch, New Zealand. She started playing croquet seven years ago when studying for a PhD in Theoretical Physics at Oxford University. She is the past winner of the British Women's Association Croquet Championship, having won it in 2002 and 2004. In addition that year she was the runner-up in the Mixed Doubles with David Maugham. Earlier this year she won the New Zealand Open Doubles Championship with partner Chris Clarke. Jenny has half-blues from Oxford in croquet, women's cricket and table tennis and has played in two croquet varsity matches at the Hurlingham Club. Jenny's other interests are squash, photography, gardening, sports psychology and computer programming.

Phyllis Young (New Zealand)

Phyllis Young commenced playing croquet in 1984 and was introduced to golf croquet about three years ago. Phyllis participated in the first Women's GC Championship in Cairo and refereed at the GC World Tournament, Hawkes Bay N.Z in 2006. Phyllis is currently the NZ Doubles winner with husband Geoff as partner.