This long standing Croquet Event was held at Carrickmines in generally fine weather over the June Bank Holiday weekend – 2 to 5 June. Around 24 players took part, slightly down on the previous year.
Simon Williams was the Tournament Manager and was also responsible for the excellent condition of the lawns. The lunches, co-ordinated by Anne-Marie McGowan, were superb! And the croquet was most enjoyable with stiff competition for the seven Trophies.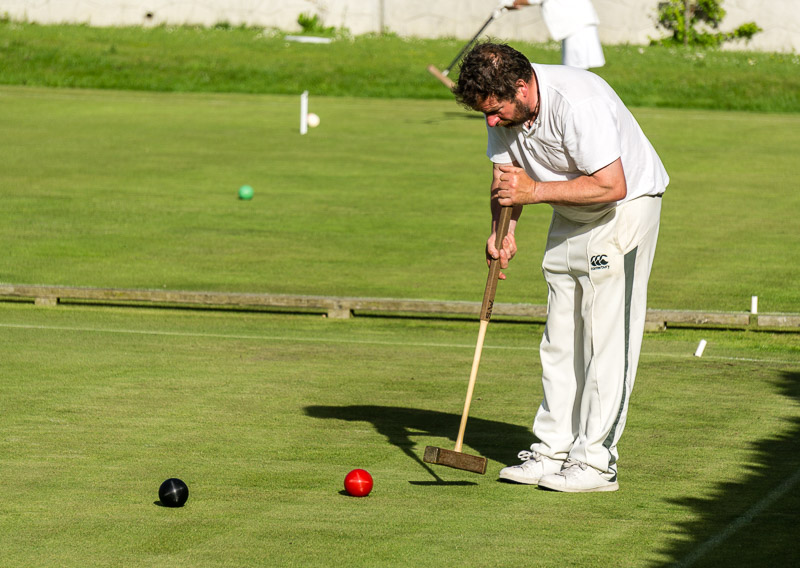 The winners were:
1. Railway Cup. Handicaps 3 and below.
Winner – Simon Williams. Runner-up - Peter Moore
2. Duff Matthews Cup. Handicaps 3.5 to 8.
Winner – Dave McGrath. Runner-up – Gerard Osborne Burke
3. Mirabeau Cup. Handicaps 9 to 14.
Winner – Tony Carey. Runner-up – Robert Miller
4. Phantom Trophy. Handicaps 15 to 20.
Winner – Richard Assaf. Runner-up – Max Miller
5. Boxwell Cup. Handicap Singles.
Winner – Daniel Bennett. Runner-up – Gerard Osborne Burke
6. Coronation Bowls. Handicap Doubles.
Winners – Richard Assaf and Sandy Greig
Runners-up – Max Miller and Simon Williams
7. Hilary Webb Cup. Plate Event.
Winner – Anne-Marie McGowan.
The next big Open Association Croquet Event will be the Irish Championships being held at Carrickmines from 5th to 12th August. The entry form will be available on this site soon.