On 6th & 7th October Waterville Lake Croquet Society held their first Tournament to celebrate the official opening of the club. This is the report, with photos, of the weekend from Marion O'Neill of the local club.
On 6th & 7th October Waterville Lake Croquet Society held their first Tournament to celebrate the official opening of the club. The Tournament consisted of Saturday – Singles Block play, with a doubles plate on Sunday.
The weather on Saturday was exceptional, allowing visitors to really appreciate the magnificent lake side setting of the new lawn. From a field of 5 visitors, (from the UK and Dublin), and 15 locals, with players ranging from14- 80 yrs of age, a final pairing of 2 visitors went forward to the singles final on Sunday.
Saturday evening was spent in The Waterville Lake Hotel, where an excellent supper was served and we all enjoyed the company of our new friends and admired each others October sunburn!
The Doubles allowed for mixed pairings of visitors and local members, which was not only great fun, but also enabled more experienced players to share their expertise and knowledge with the beginners. In the event it was a local pair that triumphed. Hugh O'Neill, Hon Sec of Waterville Lake Croquet Society, and Maria Corkery, (one of the youngest players at only 16), collected the doubles prize.
After a lovely Sunday lunch, The Singles final was an exhibition match for the new members: Chairman of Croquet Association of Ireland, Simon Williams, met Robert Barklie, Herbert Park. After a tight fought battle, with two very different styles of Croquet on display, ultimately the new lawns suited the technique of Robert Barklie. Robert collected an unusual trophy, a section of the Transatlantic Cable which was laid between Newfoundland, Canada and Waterville in 1854 and accompanying book, "A Thread across the Ocean, the heroic story of the Transatlantic Cable". The new club hopes that this symbolises a link between Dublin and the Kingdom and hope that the visitors will return in greater numbers for the next tournament.
The weekend rounded off with club Chair, Dr. Ellie O'Sullivan, opening her home for more food.
Waterville Lake Croquet Society wish to extend their sincere thanks to tournament manager, Leo Dungan, for all the time and energy required to arrange and manage the tournament for the new club. It would not have happened without her.
Sincere thanks also to Mr Haulie O'Shea, who has created the new lawn and without whom there would be no club. A very humble and unassuming gentleman.
Marian O'Neill, (Social Secretary).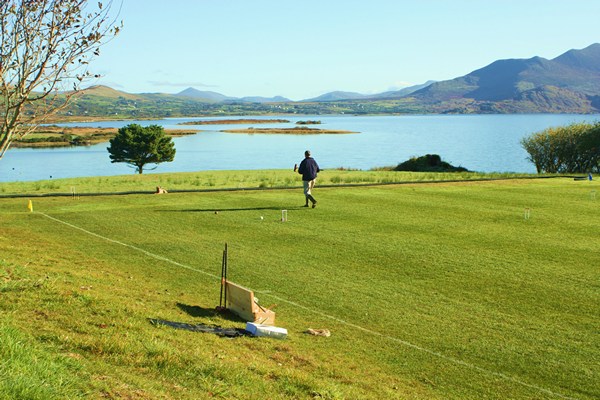 Play at Waterville Lake Croquet Tournament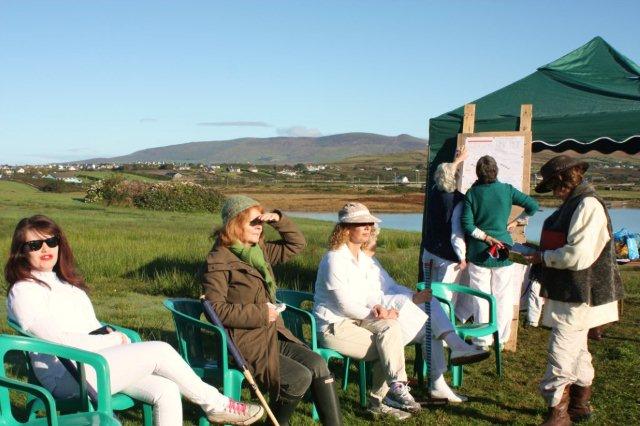 Enjoying the croquet and the October sunshine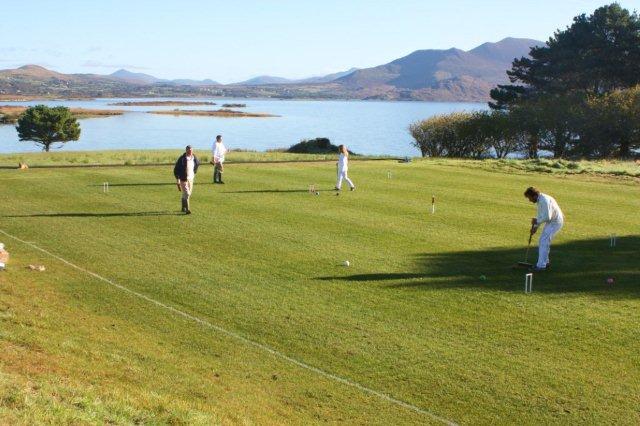 Singles play day 1. Simon Williams & Donie McGillicuddy double bank with Hugh O'Neill & Maria Corkery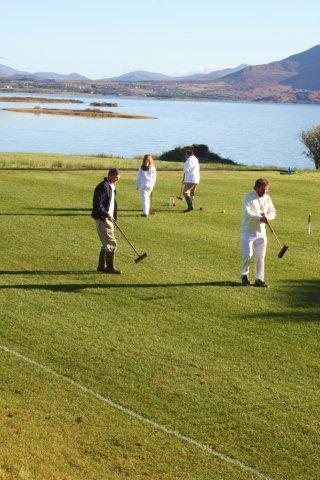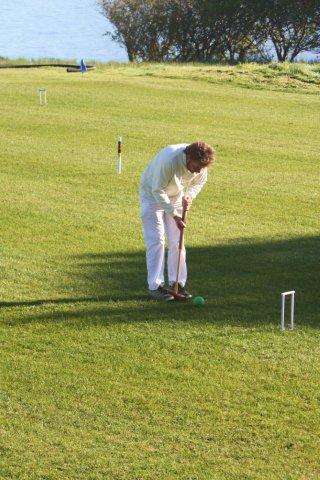 Singles play day 1.
Simon Williams showing the new members how it's done.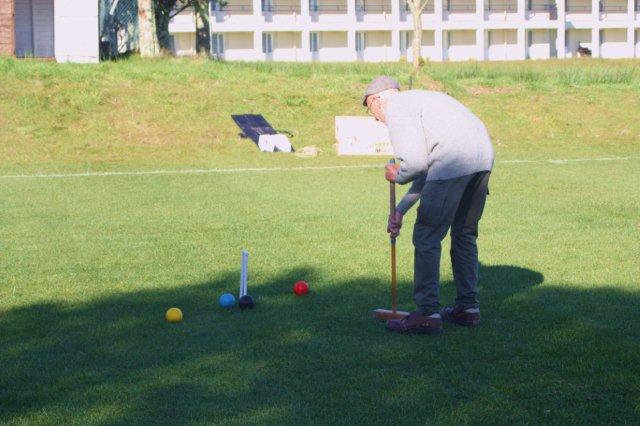 Waterville's secret weapon:Mortimer Moriarty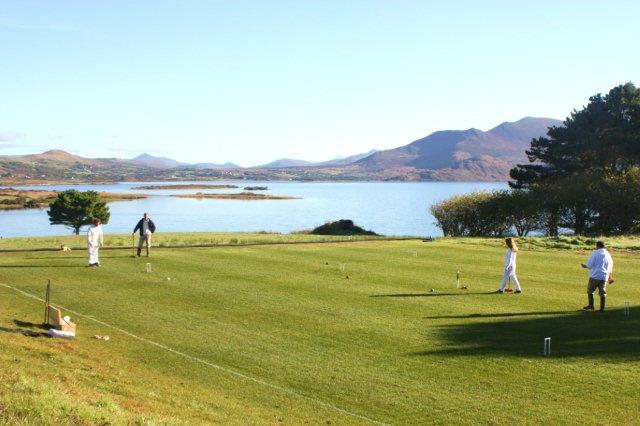 Possibly the best view from any croquet lawn in Ireland (Anywhere? Ed.)