England won the first GC Home Internationals, held in fair weather at Carrickmines last weekend.. Fears that we might run out of light so late in the year proved unfounded and the lawns were easy but the Irish team (Clingan, Fitzgerald, Williams and Stephens) could only scrape into second place, with a win over the Scots and a draw against Wales before succumbing 5.5 - 0.5 against England on Sunday. A full weekend of GC requires a lot of concentration and this is turn needs practice at tournaments
While  there may be some licking of wounds this week, the event was well attended by spectators, the club proved to be excellent hosts and there is an assured future for the event, with venues in London and Edinburgh already identified for 2018 and 2019.
The Irish Team was Jack Clingan (C), Patsy Fitzgerald (the newly crowned Irish Champion), Simon Williams and Mark Stephens.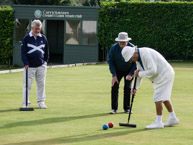 Click Photo to open Photograph Gallery
Results:
| | | | | | | |
| --- | --- | --- | --- | --- | --- | --- |
| Harry Fisher | England | 7 | beat | Alan Clark | Scotland | 2 |
| Alan Clark | Scotland | 7 | beat | Arthur Rowe | Wales | 3 |
| Harry Fisher | England | 7 | beat | Arthur Rowe | Wales | 4 |
| Arthur Rowe | Wales | 7 | beat | Mark Stephens | Ireland | 5 |
| Harry Fisher | England | 7 | beat | Mark Stephens | Ireland | 6 |
| Alan Clark | Scotland | 7 | beat | Arthur Rowe | Wales | 5 |
| Sarah Melvin | Wales | 7 | beat | Campbell Morrison | Scotland | 6 |
| Sarah Melvin | Wales | 7 | beat | Campbell Morrison | Scotland | 3 |
| Campbell Morrison | Scotland | 7 | beat | Sarah Melvin | Wales | 6 |
| Tudor Jenkins | Wales | 7 | beat | Alan Wilson | Scotland | 5 |
| Alan Wilson | Scotland | 7 | beat | Tudor Jenkins | Wales | 6 |
| Tudor Jenkins | Wales | 7 | beat | Alan Wilson | Scotland | 4 |
| Ian Burridge | Wales | 7 | beat | Martin Murray | Scotland | 6 |
| Ian Burridge | Wales | 7 | beat | Martin Murray | Scotland | 1 |
| Jenkins and Rowe | Wales | 7 | beat | Wilson and Morrison | Scotland | 5 |
| Jenkins and Rowe | Wales | 7 | beat | Wilson and Morrison | Scotland | 6 |
| Burridge and Melvin | Wales | 7 | beat | Murray and Clark | Scotland | 4 |
| Burridge and Melvin | Wales | 7 | beat | Murray and Clark | Scotland | 4 |
| Harry Fisher | England | 7 | beat | Mark Stephens | Ireland | 5 |
| Tobi Savage | England | 7 | beat | Simon Williams | Ireland | 6 |
| Simon Williams | Ireland | 7 | beat | Tobi Savage | England | 4 |
| Tobi Savage | England | 7 | beat | Simon Williams | Ireland | 4 |
| Rachel Rowe | England | 7 | beat | Patsy Fitzgerald | Ireland | 1 |
| Rachel Rowe | England | 7 | beat | Patsy Fitzgerald | Ireland | 6 |
| Patsy Fitzgerald | Ireland | 7 | beat | Rachel Rowe | England | 0 |
| J.P. Moberly | England | 7 | beat | Jack Clingan | Ireland | 4 |
| J.P. Moberly | England | 7 | beat | Jack Clingan | Ireland | 5 |
| Rowe and Fisher | England | 7 | beat | Fitzgerald and Williams | Ireland | 3 |
| Fitzgerald and Williams | Ireland | 7 | beat | Rowe and Fisher | England | 6 |
| Moberly and Savage | England | 7 | beat | Clingan and Stephens | Ireland | 2 |
| Moberly and Savage | England | 7 | beat | Clingan and Stephens | Ireland | 4 |
| Arthur Rowe | Wales | 7 | beat | Mark Stephens | Ireland | 4 |
| Mark Stephens | Ireland | 7 | beat | Arthur Rowe | Wales | 5 |
| Simon Williams | Ireland | 7 | beat | Sarah Melvin | Wales | 5 |
| Simon Williams | Ireland | 7 | beat | Sarah Melvin | Wales | 6 |
| Patsy Fitzgerald | Ireland | 7 | beat | Tudor Jenkins | Wales | 0 |
| Patsy Fitzgerald | Ireland | 7 | beat | Tudor Jenkins | Wales | 1 |
| Ian Burridge | Wales | 7 | beat | Jack Clingan | Ireland | 3 |
| Jack Clingan | Ireland | 7 | beat | Ian Burridge | Wales | 6 |
| Ian Burridge | Wales | 7 | beat | Jack Clingan | Ireland | 5 |
| Fitzgerald and Williams | Ireland | 7 | beat | Jenkins and Rowe | Wales | 3 |
| Fitzgerald and Williams | Ireland | 7 | beat | Jenkins and Rowe | Wales | 6 |
| Burridge and Melvin | Wales | 7 | beat | Clingan and Stephens | Ireland | 6 |
| Burridge and Melvin | Wales | 7 | beat | Clingan and Stephens | Ireland | 5 |
| Harry Fisher | England | 7 | beat | Alan Clark | Scotland | 6 |
| Tobi Savage | England | 7 | beat | Campbell Morrison | Scotland | 2 |
| Tobi Savage | England | 7 | beat | Campbell Morrison | Scotland | 4 |
| Rachel Rowe | England | 7 | beat | Alan Wilson | Scotland | 4 |
| Rachel Rowe | England | 7 | beat | Alan Wilson | Scotland | 3 |
| Martin Murray | Scotland | 7 | beat | J.P. Moberly | England | 5 |
| Martin Murray | Scotland | 7 | beat | J.P. Moberly | England | 6 |
| Rowe and Fisher | England | 7 | beat | Wilson and Morrison | Scotland | 1 |
| Rowe and Fisher | England | 7 | beat | Wilson and Morrison | Scotland | 4 |
| Murray and Clark | Scotland | 7 | beat | Moberly and Savage | England | 5 |
| Moberly and Savage | England | 7 | beat | Murray and Clark | Scotland | 1 |
| Harry Fisher | England | 7 | beat | Arthur Rowe | Wales | 2 |
| Tobi Savage | England | 7 | beat | Sarah Melvin | Wales | 4 |
| Tobi Savage | England | 7 | beat | Sarah Melvin | Wales | 3 |
| Rachel Rowe | England | 7 | beat | Tudor Jenkins | Wales | 3 |
| Rachel Rowe | England | 7 | beat | Tudor Jenkins | Wales | 3 |
| Ian Burridge | Wales | 7 | beat | J.P. Moberly | England | 4 |
| Ian Burridge | Wales | 7 | beat | J.P. Moberly | England | 6 |
| Rowe and Fisher | England | 7 | beat | Jenkins and Rowe | Wales | 2 |
| Rowe and Fisher | England | 7 | beat | Jenkins and Rowe | Wales | 1 |
| Moberly and Savage | England | 7 | beat | Burridge and Melvin | Wales | 5 |
| Moberly and Savage | England | 7 | beat | Burridge and Melvin | Wales | 6 |
| Mark Stephens | Ireland | 7 | beat | Alan Clark | Scotland | 3 |
| Mark Stephens | Ireland | 7 | beat | Alan Clark | Scotland | 5 |
| Simon Williams | Ireland | 7 | beat | Campbell Morrison | Scotland | 5 |
| Simon Williams | Ireland | 7 | beat | Campbell Morrison | Scotland | 3 |
| Patsy Fitzgerald | Ireland | 7 | beat | Alan Wilson | Scotland | 0 |
| Patsy Fitzgerald | Ireland | 7 | beat | Alan Wilson | Scotland | 2 |
| Jack Clingan | Ireland | 7 | beat | Martin Murray | Scotland | 4 |
| Martin Murray | Scotland | 7 | beat | Jack Clingan | Ireland | 6 |
| Jack Clingan | Ireland | 7 | beat | Martin Murray | Scotland | 5 |
| Clingan and Stephens | Ireland | 7 | beat | Murray and Clark | Scotland | 3 |
| Murray and Clark | Scotland | 7 | beat | Clingan and Stephens | Ireland | 6 |
| Clingan and Stephens | Ireland | 7 | beat | Murray and Clark | Scotland | 5 |
| Fitzgerald and Williams | Ireland | 7 | beat | Wilson and Morrison | Scotland | 3 |
| Fitzgerald and Williams | Ireland | 7 | beat | Wilson and Morrison | Scotland | 2 |