There were emotional scenes on the lawns of Newcastle as Evan Newell, on long odds, won the South Leinster Open Championship, tied on 5 wins with Danny Johnston but with superior hoop points (65 to 63!).
On the best weekend of the summer, with temperatures in the high 20s, the eight entrants played on the lawns at Healys and Johnstons, all playing all in a single block. This was the first time since the beginning of the recession that the event has taken place. It produced only 4 triples, since the lawns were fast and had several dangerous boundaries, so discretion was often the better part of valour.
Evan got off to a good start, beating Simon in the opening game and soon was on cruise control, as player after player fell to his panache. Only Danny could keep up with him, winning twice with late tps but the turning point was when Evan beat him on time and then scored just enough hoops in his defeat to Jack Clingan to get his nose over the line.
Orla Brennan cooked up a storm on Saturday night, as the players tried to relax and also provided teas and lunches to the starving hoards to great acclaim.
Evan has undertaken to defend the title next year.
Click to see Danny's Photos of the event Match results below photograph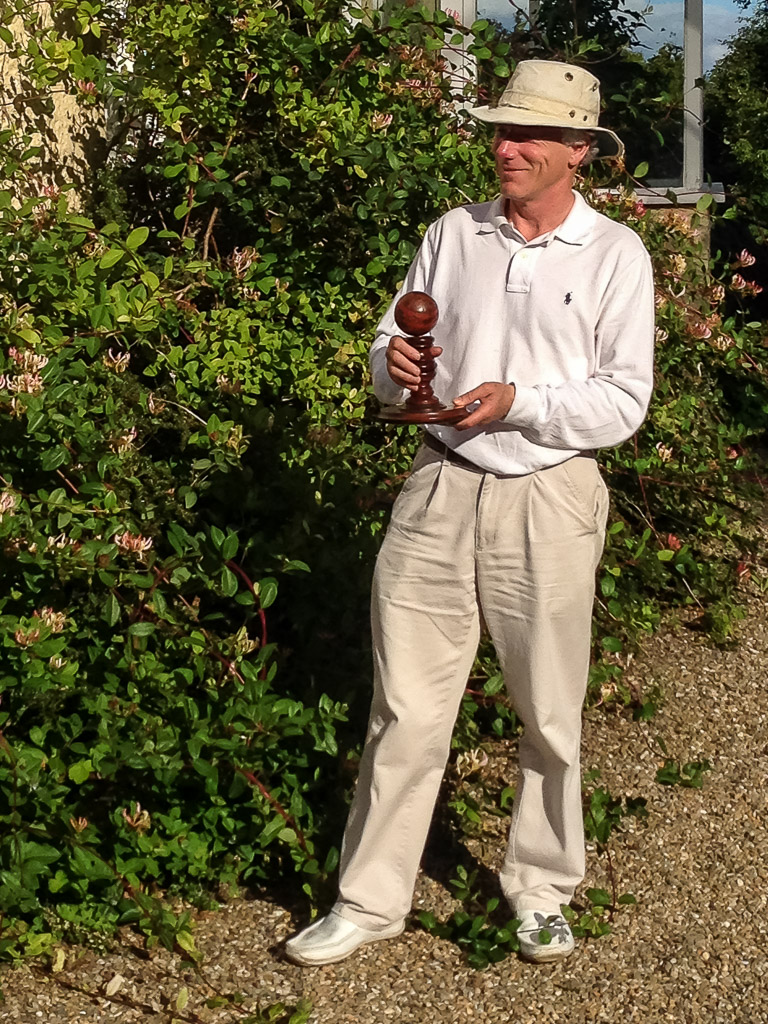 Matches played:
Jack Clingan 26 beat Evan Newell 10
Simon Williams 26 beat Fiachra Carroll 9
Evan Newell 26 beat Fiachra Carroll 10
Bill Hadden 26 beat Fiachra Carroll 3
Nathaniel Healy 26 beat Bill Hadden 10
Simon Williams 26 beat Gerard Osborne Burke 0
Danny Johnston 26 beat Fiachra Carroll 7
Jack Clingan 26 beat Fiachra Carroll 11
Evan Newell 21 beat Danny Johnston 17
Nathaniel Healy 26 beat Gerard Osborne Burke 14
Simon Williams 26tp beat Bill Hadden 0
Evan Newell 24 beat Nathaniel Healy 17
Jack Clingan 26 beat Bill Hadden 0
Danny Johnston 26 beat Gerard Osborne Burke 5
Fiachra Carroll 26 beat Gerard Osborne Burke 12
Evan Newell 26 beat Bill Hadden 4
Danny Johnston 26tp beat Jack Clingan 22
Bill Hadden 25 beat Gerard Osborne Burke 24
Danny Johnston 26tp beat Simon Williams 18
Nathaniel Healy 26 beat Jack Clingan 19
Simon Williams 26 beat Nathaniel Healy 10
Evan Newell 26 beat Gerard Osborne Burke 7
Danny Johnston 26 beat Nathaniel Healy 21
Simon Williams 26tp beat Jack Clingan 0
Evan Newell 26 beat Simon Williams 13
Jack Clingan 26 beat Gerard Osborne Burke 6
Nathaniel Healy 24ot beat Fiachra Carroll 17
Danny Johnston 26 beat Bill Hadden 16