Patricia Whitty (Rushbrooke), Celine Reilly (Herbert Park) and Jane Morrison (Balgreen, Edinburgh) represented Ireland at the first ever Women's Golf Croquet European Championship, in Latvia. We arrived at the Ikskile club in a torrential downpour to find the three lawns flooded but this cleared in time for the opening ceremony where we were joined by the Irish ambassador to Latvia, Eimear Friel. A brass band played, the wine flowed and we met up with our fellow competitors from Spain, Germany, Switzerland, Sweden, England and Latvia.
The competition took place both at Ikskile and Sigulda, a beautiful one-lawn club in a private garden about 50 minutes drive from the main venue. Block play for two days was followed by a knock-out and plate events with consolation Shield and Bowl events to keep everybody busy for the four days. Both Jane and Patricia qualified for the main knock-out with Celine almost getting there but denied in the block playoff by rising star of Latvian croquet Sabine Martinsone of Latvia. Sabine went on to knock Jane out of the main event in the first round and then she beat Patricia in the final of the shield.  Patricia did best of the Irish team coming sixth overall and Jane won the Bowl, beating English player Glynis Davies in the final.
The Championship was an all-Spanish final and was won by Begona Elzaburu of Spain.
All of this took place in an intense heatwave with temperatures reaching 32 degrees and not much shade out on the lawns. The organisers did their best to help with this, providing all players with fans, water bottles and peaked caps, creating a water shower hose at the side of the lawns and there were cool, shady swings under the silver birch trees. The sponsors helped out with free beers, much appreciated by Ireland's travelling supporter, Campbell Morrison.
Many thanks are due to the Latvian organisers, in particular Roberts Stafeckis, for a wonderful weekend of croquet.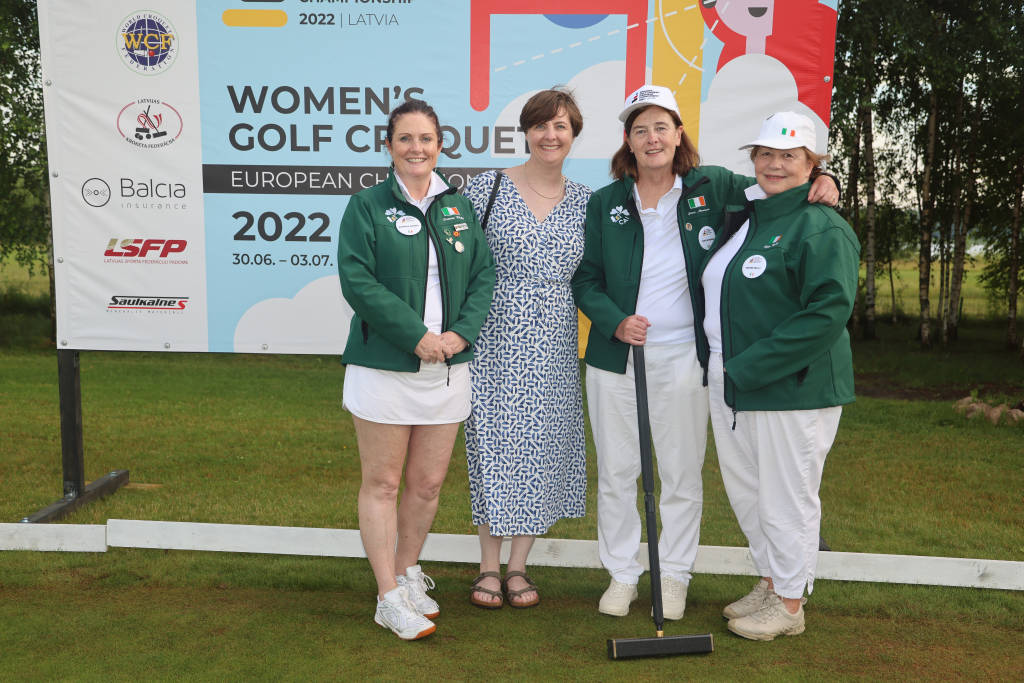 Patricia, Jane, the Irish ambassador to Latvia, Eimear Friel, and Celine.  
Photo by Laura Kenina.