The 2018 Home Internationals were held in a very sunny Bowden Croquet Club, south of Manchester. The Irish team comprised of Danny Johnston, Peter Moore, Jane Morrison, Home Internationals veteran Simon Williams, and finally Evan Newell who overcame injury in time for the event. Bowden is a club steeped in history and held a match in the McRoberston Shield as recently as 2010 so it was a pleasure to visit. The club has 4 lawns which in their prime could provide really quick and interesting courts, and this was certainly the case in places over the course of the weekend, though the surface was probably not at its absolute finest and was inconsistent in places. With a great clubhouse set within very pleasant surrounds. and with a good pub around the corner (the venue for the Friday night Irish team meeting), Bowden is certainly worth a visit.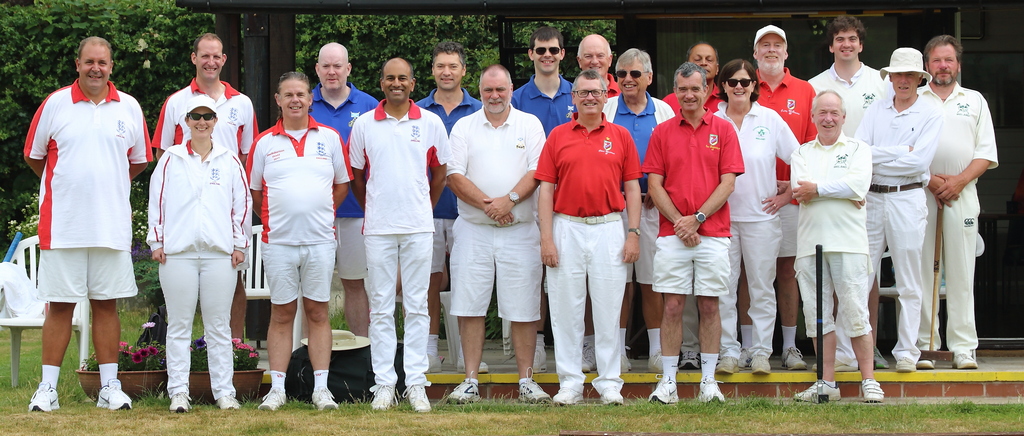 Teams Photo
The event's format is 5 players per team, with each player facing their opposite number in a best-of-three (Bo3) match, making for three Bo3 matches over the weekend. On Saturday morning the draw was made by manager Samir Patel, pitting Ireland against Wales in the first round while Scotland faced England. This round proved to be a very, very drawn out affair which impacted on the subsequent matches. At the top of the order, Danny failed to get to grips with some of the faster patches on lawn 4 and was beaten fairly swiftly by Wales Captain Ian Burridge. Simon inflicted some Home Internationals revenge on David Walters who has had the better of him in recent years, hanging in 'til the bitter end to win +1 in the third game! Home Internationals debutant Peter Moore was thrown in the deep end playing at 3, and despite playing well in patches was eventually defeated by Chris Williams. Evan continued his ongoing saga of matches with Gary McElwain which has provided much entertainment and thrilling finishes in recent years. This, however, was a match that threatened never to finish at all, and having won the first game (despite managing rushing partner on to the peg for a Grievous error) Evan sadly fell to a loss in the second and third and confirming Ireland's loss to Wales. Jane also had a back and forth match with Dayal Gunasekera, but had the better of it winning in two with some very solid shooting and high-pressure hoop running on display. 
So with an overall 3-2 loss to Wales, Ireland began the Scotland test very late on Saturday due to the extended nature of the Wales match and need for a late start due to limited lawn space. Evan's match with John Surgenor began slightly before dusk and was quickly tagged down, though as Evan had managed a break in that time he naturally claimed a moral victory in a match that was destined never to be finished. Jane managed to go one step further and win the first game of her tie with Martin Murray before play was called for the night. A clash of old foes was again displayed in Simon's round, with himself and Duncan Reeve ending the day on one game each with the match to be decided on the Sunday. The increased strength of the Scottish team in recent years was highlighted by the presence of their previous year's No.1 Sam Murray in the number 3 position, again making Peter Moore's task a tough one. With Peter's loss being the only match completed in the Test that day, it was down to Danny to allow Ireland to end the day on parity. However, world number 8 Jonathon Kirby proved too strong. After failing to take croquet in game 1, Danny did at least find some form to take a ball around third turn before a failed tp allowed Jonathon one shot too many and a -26, -3 loss ensued. 
After a fish and chip supper in the club, a good night's sleep was in order for all the weary players who had slogged it out in the sun for 12 hours!
Sunday began with the second test suspended to allow the third test to begin. Ireland faced their toughest task in England, with their No. 5 player Miranda Chapman ranked only a few places below Danny at Ireland's No.1 position. Indeed Miranda defeated the battling Evan Newell in two games, though Evan had more play than he might have anticipated. Jane, rapidly becoming Irish player of the tournament, put in a very strong effort versus the familiar face of Mark Suter, winning the second game to force a decider. In the third Jane again was in with a shot, but Mark hit at several critical junctures and completed a triple peel to secure the second English win. Simon had a very close match with Samir Patel, but ultimately missed an 8-yarder at a critical juncture which allowed Samir to finish the match and the test off. Peter Moore faced another Home Internationals debutant in Alain Giraud, and the latter proved too much despite Peter hitting in at several important moments to keep himself in the match. Danny rounded out the fixture with a loss to David Maugham whose superior shooting and error-free play proved too much. 
So with two Test losses and an undecided match, Ireland are left to consider how they might improve their chances for next years event. On paper, it was always going to be a struggle for this team, but there were several very encouraging performances throughout the weekend to build upon, most notably Jane who performed consistently above average throughout and was certainly the Irish player of the tournament. 
A very warm thanks to the member of Bowden Croquet Club for their lawn preparations and wonderful hospitality, and for living up to their reputation for excellent catering! And thanks to Samir Patel for his management of a difficult event to get finished!
Photos courtesy of Bowden Croquet Club 
Danny Johnston 
Irish Captain