Following an invitation from Rushbrooke Lawn Tennis & Croquet Club an exhibition of association croquet was delivered to the members of what is the oldest existing croquet club in the country on Sunday October 23rd.
Courtesy of CAI Chairperson Simon Williams & world golf croquet champion Mark McInerney upwards of 30 enthusiastic players were shown the finer points of the traditional game before engaging in some competitive matchplay throughout the rain drenched afternoon.
Association & golf croquet were played with both Simon & Mark clearly delighted to be able to impart their knowledge and skills to the large gathering of members, many of whom have only recently joined the club.
It was a splendid opportunity for the CAI to support Rushbrooke as it strives to showcase the game of croquet to the wider community of east Cork.
Golf croquet is the discipline of choice on the lawns of the Cork club. The club counts three superb lawns amongst its facilities, two dedicated to croquet while the third is used predominantly for lawn bowls but can be used as a croquet lawn should the need arise.
The club was founded in 1870 but had to wait until May 1987 to host its first international competition when it proudly hosted the CAI's Silver Medal won on that occasion by Mr Colin Irwin from the UK.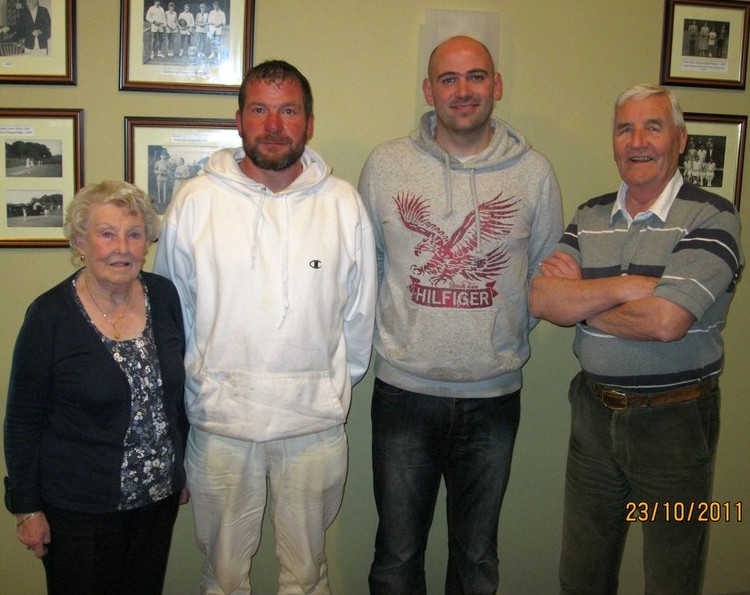 Pictured are Mrs Betty Hally, Simon Williams, Mark McInerney & Joe Rodgers, President RLTCC
Written by: Frank McDonnell, Croquet Captain, RLTCC