There was a 75% new line up for the GC Home Internationals this year with Charlie von Schmieder, Evan Newell and Jane Morrison joining veteran Simon Williams (c) in the splendid sunshine of Surbiton Croquet Club. First up was Wales: Simon and Charlie took a game off Ian Burridge and Sarah Melvin but Evan and Jane lost both games despite a marathon half hour effort at hoop 13 in the second. The format was best of two in the doubles and best of three in the singles so that win by Simon and Charlie was crucial. Charlie, Evan and Jane won their singles ties to take the match.
Next up: Scotland. The singles were played first and Simon and Charlie quickly won with Jane winning shortly afterwards in three. Evan, meanwhile, was battling Bob Darling in the singles and having taken the first played a perfect jump shot at hoop 12 to level the second game. With Bob stuck in the jaws of Rover, it was looking like we might get to the pub early. Bob had other ideas. He turned around, whacked his ball off the peg and it veered off inevitably into perfect position at hoop 13. He took the game shortly afterwards. Luckily the manager decided that was enough for the day as Evan might not have recovered from this desperately unlucky setback. The doubles in this tie were not played and Evan never finished his match, which was a shame, but time was short and some of the games were taking ages to finish in the difficult conditions of bone dry lawns and firmly set hoops.
Sunday morning and the match with England started with doubles. Simon and Charlie took a game off the hot shot paring of John-Paul Moberly and Tobi Savage, but Evan and Jane were undone by Rachel Gee's brilliant hoop running and Jonathan Powe's deadly shooting. In the singles, both Charlie and Jane took a game off their opponents but the English were too strong and were worthy winners of the trophy for the second year.
The Surbiton Club, world famous for its catering, did not let us down and we were wined and dined like visiting royalty. The jug of ice-cold Pimms was particularly welcome. The new trophy, donated by Ian Burridge, was presented by Quiller Barrett and the teams can look forward to reconvening at the Balgreen club in Edinburgh next year.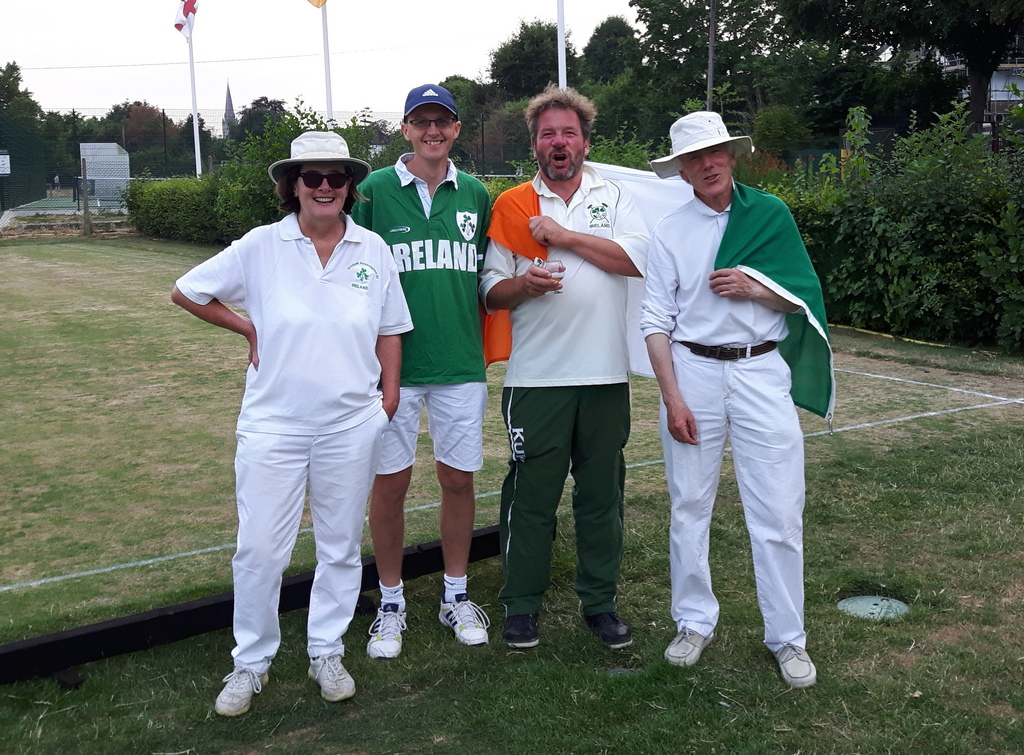 Jane Morrison. July 2018